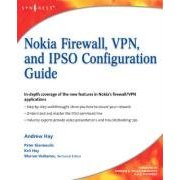 Andrew Hay and Warren Verbanec, two of my former co-workers, along with Peter Giannoulis and Keli Hay have come together to make the Nokia Firewall, VPN, and IPSO Configuration Guide
. These folks have put together a comprehensive tome covering all of Nokia's network security solutions, though the primary focus is on Nokia IPSO and Check Point VPN-1. I also played a small role in this book by writing the foreward for it, as well as helping both Andrew and Warren with various things over the years.
Of course, since the time this book was finished, but before it was printed and bound, and available on amazom.com and other places, Nokia announced it was selling off the Security Appliance business. Even if the boxes have a different name on them, which must happen eventually as result of new ownership, they'll still be the same high-quality systems you've come to know and love from Nokia.